It's a very easy process to change the password in WordPress, and a good tip is to put a strong password so it's not a bad idea to change the password on a regular basis.
Click on "user" and then on "your profile".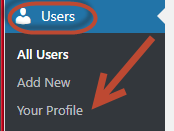 Scroll down on the new page that appears until you reach "account management" and click on "generate password".

Write in the password you want in the new section that comes up next to "new password".

Click then on "update profile" that you find in the bottom of that page by scrolling down.

Some tips for a strong password:
More then 8 characters.
Minimum 1 number.
Minimum 1 capital letter.
Be careful that it isn't base on a normal word.
Use special characters if the server supports it.
Example of strong passwords:
cucWiUk5
etCib!twiwraj5
NyanuksAgyucVoc5
Example on weak passwords:
summer
123456
sock