This step-by-step description explains how you can restore your data from backup via your FTP program.
You first need to connect to your FTP site. If you are not sure how to do this, we have guides for a number of FTP clients here.
Go to the FTP folder where you have files you want to restore.
In the FTP client's field for path, enter the folder .snapshot and press Enter. You will then be presented the following list of folders.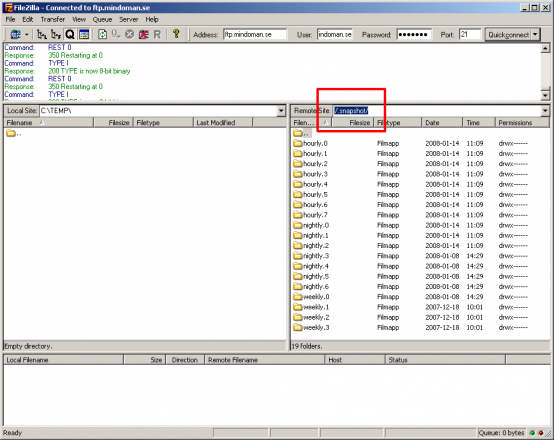 All folders each contain a complete backup (snapshot) of the directory you are in. Backups named hourly are taken four times a day, you have therefore eight such backups from the past 48 hours. The youngest backup is always in hourly.0. When a new backup is made the older ones are rolled downward in the hierarchy. Folders marked as nightly are taken once a day and folders marked as weekly are taken once a week (Sunday night).
Click your way into the FTP folder that you want to recover data from.
Select the files or folders you want to restore from FTP and transfer them to your local hard drive.
Then go into the FTP folder to which you want to move these files.
Transfer the files from your local hard drive to the FTP folder.
The restore is now complete.
Note that the files in .snapshot folders are read-only. You can not accidentally delete files in your backup.
Snapshots marked as hourly are taken at the hours 08, 12, 16 and 20. Snapshots marked as nightly are taken at midnight and the ones marked as weekly are taken sunday night.