As a Customer, you can use our DynDNS support to update your domain name's IP addresses. It is neither difficult nor time consuming, but some adjustments are required.
To use your domain name/s with our DynDNS support, you will need the following:
Loopia DNS or Web hosting package.
A domain.
Router with support for DynDNS, computer with DynDNS client or optional server.
Start by clicking on the domain name in question in your customer zone.
In this guide we have chosen to go out from the normal setting for a domain name "parked". Usually this is chosen for your domain name if you have not done anything with the domain name yet.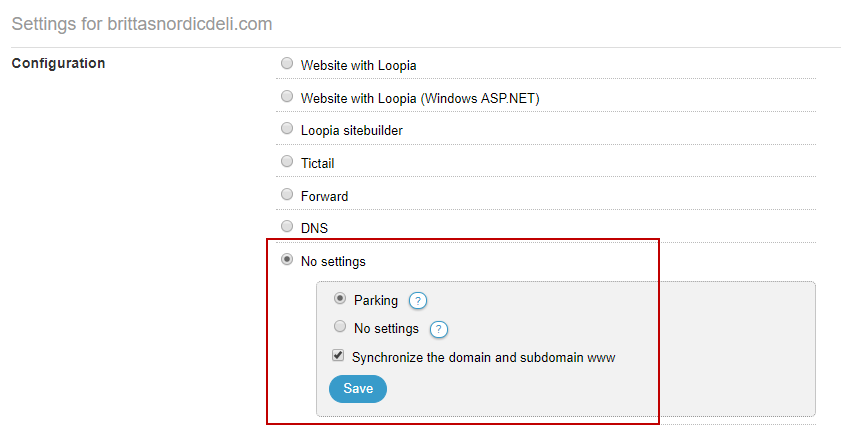 Under "Additional settings for: yourdomain.com", click "DNS Editor" to get the advanced settings for your domain name.

Remove all the sub domains that you do not use (example: email) and value. except "@" and "*" (wildcard) under "delete".
Then click on "Add a new record" under "@" and select "A" record as "type". Enter your current external IP address under "Data". You can check your IP address here. Then click on "add".
Then create a "CNAME" under "*" for the domain name. This means that whatever you write before the domain name, visitors will be forwarded to the IP address you entered under "@".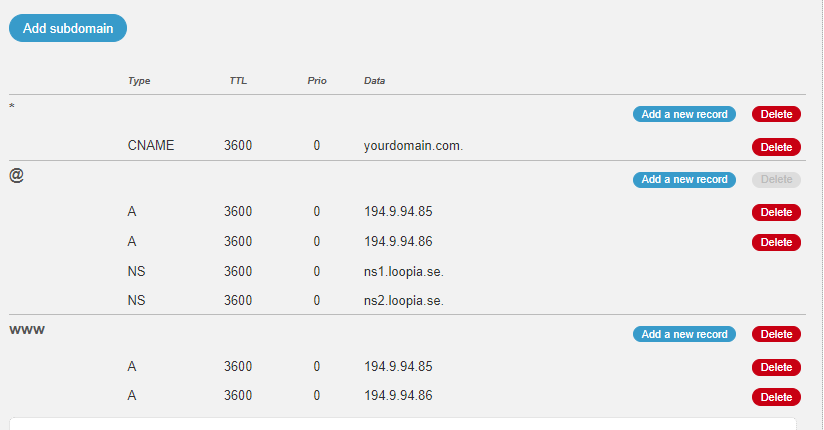 It may take a couple of hours, up to 24 hours at most, before this works as wanted. But after this is done, you can handle any visits to the domain of your router, computer or server.
Please check our guides for how to set up any router or DynDNS client here.