Subdomains are included without a cost if you use our DNS service or have a hosting subscription with us.
You can find information about our DNS service here: www.loopia.com/loopiadns/
Adding subdomains in your Customer Zone
You can add a new subdomain in your Customer Zone by clicking Subdomain in the menu Add / create.

On the next page, "Add subdomain", you choose your domain and enter the name of the subdomain and click Add. In this example the subdomain is subdomain.mindoman.se.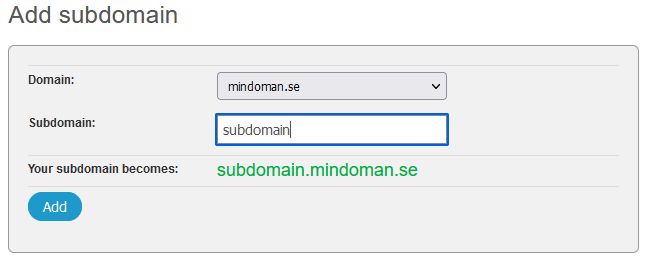 In a few seconds you will receive the message that the subdomain has been created and you can now change the configuration for your subdomain. To change the settings you start by clicking your newly created subdomain.

When you have clicked your new subdomain you can change its settings, such as giving it its own folder for you to upload materials over FTP or point it to an external service provider.