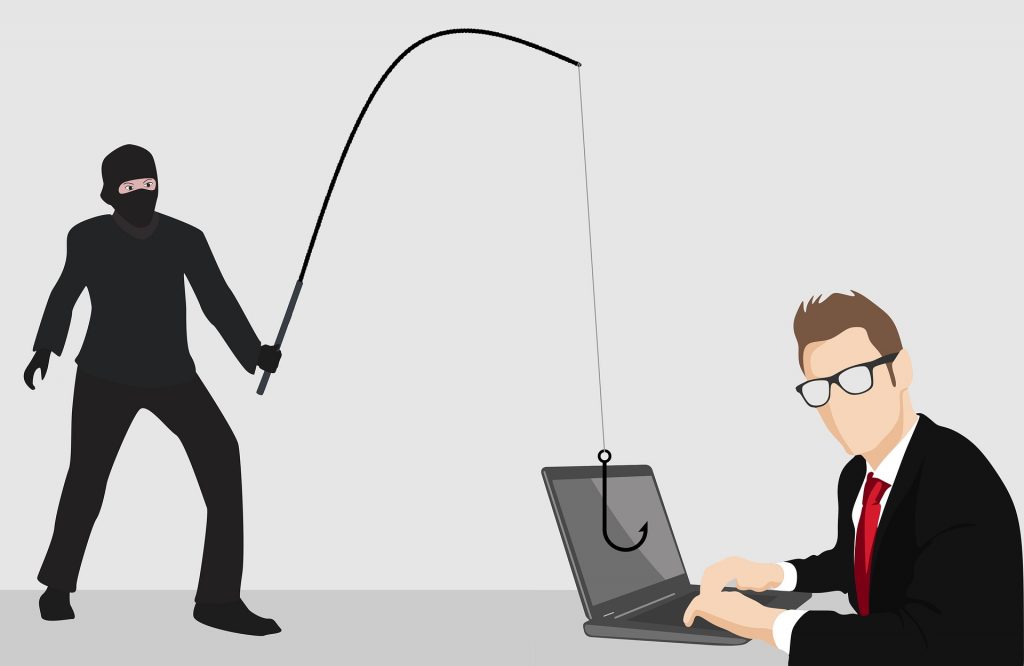 Sending an email and pretending to be a person or a company is called Phishing, which means that the sender is trying to fish for making a profit at someone else's expense.
To begin with, it is difficult to determine if an email is legitimate or simply trying to exploit the recipient in some way. This is what makes it so difficult for us and other companies in the industry to prevent you as a recipient from receiving these messages. We do everything in our power to avoid this, but unfortunately it sometimes happens that messages slip through.
So, how do you figure out if an email is legitimate or not? We will try to highlight some things that you can look for and think about.
---
Bad language!
You can often suspect that something is not right by just reading the text of the email. Pure spelling mistakes and generic greeting phrases such as Best user/Dear customer or similar is commonly used. In all cases where we at Loopia for some reason need to contact you personally, we address the email to the specified contact in the account.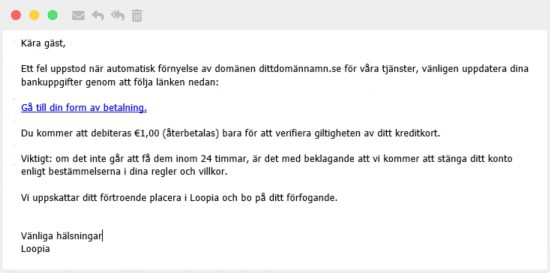 "Masked" sender
That a message is sent from a specific sender is not so difficult to see, "it's displayed in the sender field". But, it's not that simple. It is possible to write anything you want as the sender name, while the email address might be completely different. A tip is to click on the email address of the sender to see who it actually is.
In the example below (from a phone), the sender has pretended to be Loopia but the email in fact comes from a completely different domain. In this case loop.com which does not belong to us.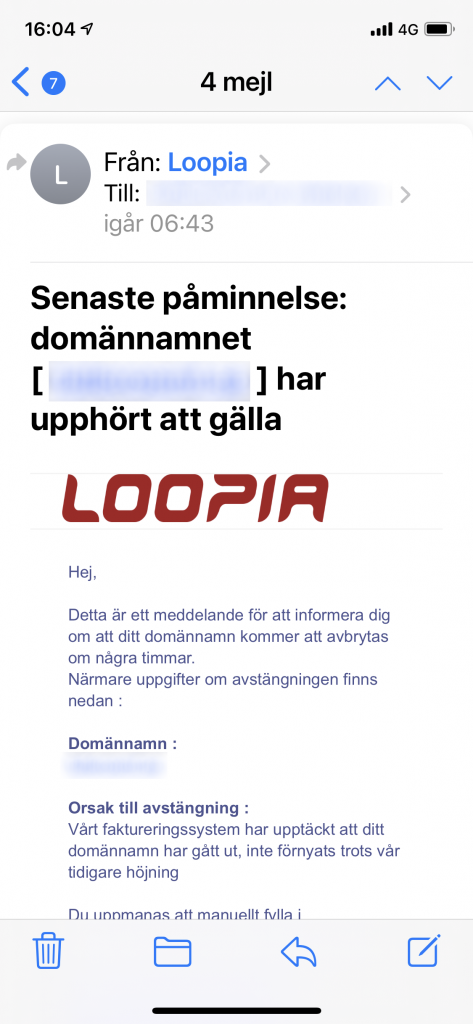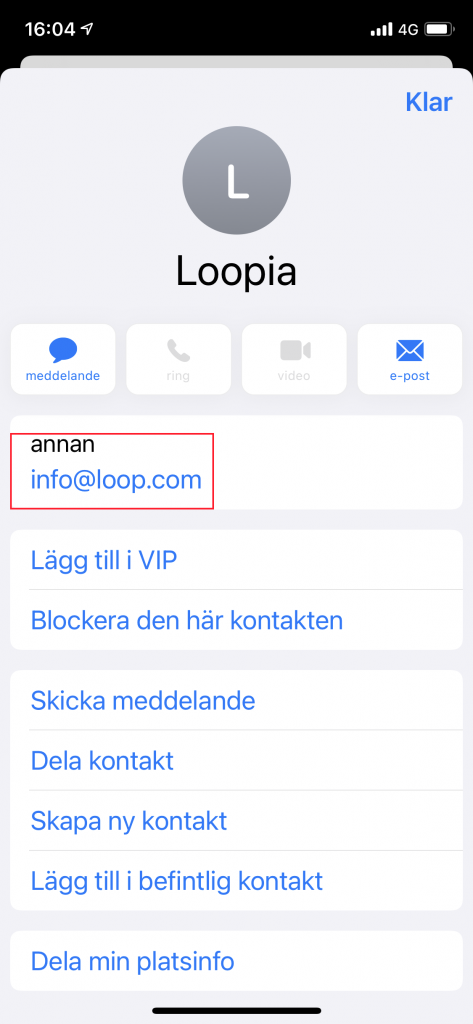 Attempt to be intimidating
The message is often about that something serious has happened or will happen to your account, for example that your domain will be suspended or that "our system" has detected something that is not true. Of course this can also happen, but in the case of the domain, you will always receive an invoice, a notice, a reminder and another notice to make you aware that your domain will expire soon. We would never "shut down" a domain from one day to another. We always have a dialogue with you, and if you are unsure, you can of course contact us.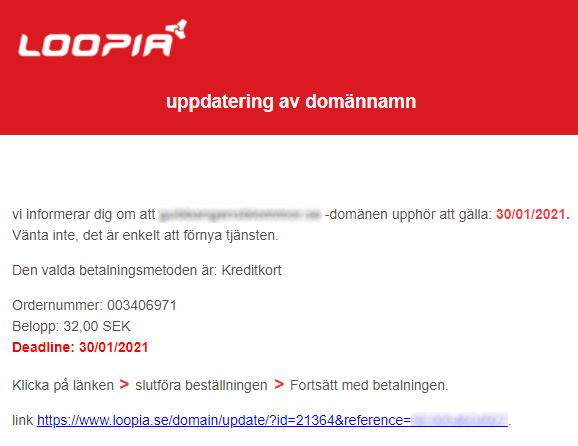 Never click on links you do not know of
One thing that applies to almost all phishing messages is that you are asked to click on a link and then enter information such as your user information at Loopia, your credit card details or maybe even personal information. A trick that works in most browsers (if you read your email via webmail) or the most common email clients, is to "hover" (hold the mouse pointer) over the link to see where it wants to lead you. The scam link is often long and has nothing to do with us at Loopia.
"You have paid too much money, click here…"
Having paid too much money to a company sometimes happens, also to Loopia. What we would not do in that case is to ask you to click on a link to enter card details. If you would have paid too much, we would have added the amount as a credit to your account (Loopia Prepaid) or contacted you, but in the latter case asked you to reply with information on how you want the amount refunded. We would therefore never ask you to click on a link where you are asked to enter any account/card details or similar.